The Official Website of Kyoshi Gary Simpson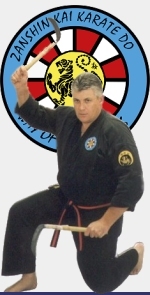 35 years in karate
15 years in motivation
[
more >>
]
Affirmations
Look at your life today. Do you have what you REALLY, REALLY want?
Or are you settling for less?
Whether you realize it or not, your life today is a result of your subconscious mind. Your subconscious mind has been absorbing information 24 hours a day for your whole life. You are the car and it is the driver. Do you like where it's taking you?
How many of these apply to you?

Low self esteem or low self image?
Lack of motivation?
Trouble with follow through?
Feeling negative or pessimistic?
Feeling angry frequently?
High levels of frustration?
Feeling scared or insecure?
Struggling with finances?
Struggling to lose weight?
Note; If you checked off even ONE box, you would benefit from Brain Training.
Do you know why goal setting and resolutions usually fail?
Many people that want to lose weight set a goal to do so. They focus on the thought "I will lose weight." Do you know what happens? They do not lose weight. They are not communicating with their mind in the most effective way, so they simply reinforce the problem and it continues.
Do you know why affirmations, used correctly, are so effective?
The subconscious mind cannot tell the difference between what is real, and what you're thinking. That's why nightmares seem so real. When you know the correct way to write your affirmations, your subconscious mind will process suggestions the same way it processes reality - effectively changing your thinking. When you change thought, you change behaviour, which leads to a change in results.
In "Brain Training, Affirmations to Strengthen Mind and Body," you will learn the most effective way to create your own affirmations based on your needs. Learn to create;
Affirmations for better health
Affirmations for weight loss
Affirmations for wealth and financial success
Affirmations for better memory
Affirmations for happiness
Affirmations for self esteem
Change your thoughts and you'll change your life.
Order your copy of BrainTraining today!