Here is what you will receive by joining Zenspirational Thoughts:
Instant access to "The Power of Choice" e-book - a powerful tale that has received high praise and commendation from all around the world. That's a picture of it over there on the right ----->
Look underneath the cover of the book to see what others thought of it!

A weekly "Zenspirational Thoughts" email directly into your inbox. This series contains short (100 to 150 word) observations on life. Each one includes a famous quote or saying plus an explanation of how this wisdom can benefit YOU! Collect the entire series of "Zenspirational Thoughts." Growing week by week, it's FREE but only if you join now. (You can see a sample below.)

BONUS: A password that will let you into to the exclusive MEMBERS' ONLY area of the www.turn-debt-into-wealth.com website where you will be able to access the critically acclaimed "WEALTHY MINDS" newsletter. If you want to prime your mind to receive money then this is where you will discover how to do it.
FREE GIFT WHEN YOU JOIN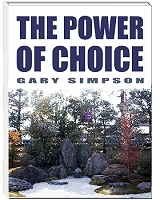 The Power Of Choice
really hit home with me!

Carmen Holbert

read your "Power of Choice"
just can't thank you enough

Mazz S, United Arab Emirates

I was mesmerized by the story Power of Choice

Kathryn Browning, Colorado

Your e-book 'CHOICE' is
inspirational and divine.
The message touched me
deeply, my heart exploded.

E Dumas, Sydney

you must be touching thousands of lives
daily, I feel your messages
are personal and heartfelt.

S Buehler, Canada