"Discover How to Save a Small Fortune by Learning How to Do Your Own Copywriting to Create HOT Sales Pages That SELL-SELL-SELL!"
Hi there,
Gary Simpson here, writer and author. That's a pic of my smiling face over there on the left.
Most people wanting to establish an internet presence require a strong benefit-laden sales page. Hiring a decent copywriter (ie the guy or gal that can turn your product or idea into a story that sells) can be a VERY expensive experience.
At the very least you should brace yourself for an outlay of at least $500 - MINIMUM! Usually, the cost to hire a good copywriter will be upwards of $1,000 to $1500 to $2,000 or more. I know that the "big guns" of copywriting can charge between $5,000 to $10,000 for pages that crank out sales like hitting the jackpot on a poker machine. Ching-ching-ching-ching...
Now, that's all very well paying amounts like that - if you have plenty of money to spend - but what if you're only just starting out? What can you do?
Well, with my experience, I can easily solve that problem for you.
Save Yourself a TON of Money and Learn a Much Sought After Skill By Being Your OWN copywriter!
Imagine being able to write your own sales pages because you know the formula. Admittedly, your copywriting skills will only get better with practice. But - you will SAVE a big chunk of money and at least you can get started selling online. And... who knows? You might get so good at it that YOU can start charging those $500, $1000 and onward fees. There are plenty of clients out there who WILL pay those amounts! They don't have the time or inclination to do it themselves but they DO have the money.
Imagine the prestige and authority you will have if you learn to be a "GUN" copywriter. Even the most basic of copywriters can easily charge up to $500 for a fairly simple sales page. Imagine the money you could make and the reputation you will build.
Well, stop imagining and start LEARNING how to do this. It's not that difficult when you know HOW!
I can help you …
You Can Get ALL the Information to Get Started Right HERE:
I've been asked OVER and OVER again to help people write their sales pages, letters and just about everything else. But with a bit of coaching and some practice, MOST of them can start to do this for themselves.
So, I thought to myself… "what if I could just provide a resource for people so they could learn to do it for themselves?" Hmm…

I did a search online and the only courses I could find were themselves EXPENSIVE. So it was a bit like a dog chasing its tail. I thought that if people were able to at least create even a "rough" draft then hand that over to a copywriter that it would severely cut down the amount of work that the copywriter would need to do (including asking all the questions and doing all the thinking and going back and forth with you) then that would save you a LOT of time and money hiring such a person.
Or, as your skills improve you could do the whole project properly yourself OR, if you enjoy it and get good at it, you could even hire your services as a copywriter to others who need sales pages and sales letters written.
So, I wrote "The Beginner's Guide to the MAGIC Art of Copywriting." Here's a picture of the cover: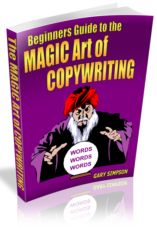 So far "MAGIC" has been downloaded 2,104 times. So, you'd think it must be pretty good huh? Well - even though I do say so myself - it IS! Quite simply there is NOTHING like it anywhere. It's FULL of solid information with NO fluff.
Here's a Sample of What You Will Learn:
What Exactly Is Copywriting?

What It Takes to Be a Copywriter

4 ESSENTIALS of Writing Money-Making Ads and Sales Letters

The Absolute Importance of Headlines, Sub-Headlines and Titles

Know WHO You Are Selling To.

How to Write "One On One."

How to Find "Benefits" and How to Highlight Them to Your Buyers

The Difference Between Features and Benefits

How to Turn Features Into Benefits

How to Use Testimonials to Your Advantage

The Correct Use of Emphases - Underlining, Bolding, Capitalization

Asking For the Order - How to Do It and How Often

Why You Should NEVER Be Too "Cute" or Clever

Overcoming Objections

The "Feel, Felt, Found" Technique

Final Testing of Your Sales Page

and MUCH more... including where to go for more detailed information
How to Get a Copy of MAGIC Art of Copywriting For Yourself:
"The Beginner's Guide to the MAGIC Art of Copywriting" (46 pages of pure content) is available through Clickbank for $27. Really, when you think about it, how CHEAP is that? You can pay hundreds and still not get the information that I have crammed into this e-book.
Click the following link to get your own copy and become a copywriter:
CLICK HERE TO GET YOUR PERSONAL COPY OF MAGIC ART OF COPYWRITING.
Delivery is electronic and immediate.
Guarantee
"The Beginner's Guide to the MAGIC Art of Copywriting" comes with a full 60 day money back guarantee.
Proof That You're In Capable Hands
OK let me lay my "creds" on the table for you and I'll keep it short…
… I've worked as a proof-reader, editor, speech writer, free-lancer, parliamentary writer, report writer, technical writer, book writer (author), magazine writer, newspaper writer, features writer and a whole bunch of other things. I have been paid for my writing both by salary and also as a freelancer. I've also helped a lot of people with their sales letters and copywriting requirements for many, many years.
On the Internet I have written hundreds of articles that have been picked up by thousands of websites and ezines. I have a massive blog that gets 100's and 100's of comments and 1000's and 1000's of visits. I have a huge Twitter following. I have authored a bunch of e-books that are downloaded all over the world etc, etc. Google my name if you want proof. You can see for yourself.
In summary, I know an awful LOT about the best way to write in all forms. Pretty much, I would back myself against any writer on the face of the earth. Arrogant, I know but that's how confident I am of my ability. And with this e-book I can pass that information on to you in an instant. You won't find anything on the craft of copywriting that is simpler or better or easier.

You Too Can Become a Copywriter
By following the information in The Beginner's Guide to the MAGIC Art of Copywriting"you too can learn this skill.
Let me tell you this: there is nothing quite like creating a rip-roaring sales page. And if you practice and get good at the art of copywriting then there is absolutely NO reason why you cannot sell your ability and services to others.
If you've always wanted to know the secrets of copywriting or even to learn how to become a sought after copywriter yourself then don't waste even one more day. Get started NOW! Learn the craft. It's a skill that will SAVE you a bundle of money and could even MAKE you a bundle of money
CLICK HERE TO GET YOUR PERSONAL COPY OF MAGIC ART OF COPYWRITING.
Best Wishes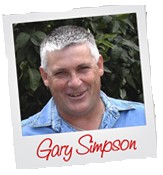 PS: Imagine how you will feel when your family and friends find out that you can copywrite. Not to mention being paid for your ability.